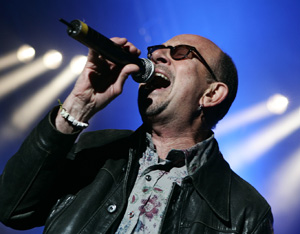 Chris Thompson var vokalist og frontfigur i det legendariske bandet "Manfred Mann's Earth Band". Bandet var på 70-tallet et av verdens største band. På repertoaret til Chris Thompson & Mads Eriksen band står selvfølgelig en rekke Manfred Mann-klassikere. Både "Davy's On The Road Again", "Blinded By The Light", "Mighty Quinn", "For You", "Questions", "Redemption Song" med flere. Men han har også funnet rom for mange nye låter. Verdenshit`n "You`re the voice" som John Farnham fikk en internasjonal superhit med i 1989 er selvsagt en del av programmet.
Selv om han forlot Manfred Mann's Earth Band etter åtte album var ikke hans tid som kirsebærspiser blant rockeeliten over. Thompsons vokal kan høres på plater med Elton John, Ozzy Osbourne, The Doobie Brothers, Tina Turner, Ray Charles, Jefferson Starship med flere.
Konsepter:
Chris Thompson & M.E. band spiller opp mot 120 minutter med klassiske rockelåter fra Chris sin lange karriere, som daglig er å høre på P4 og Radio Hele Norge.
Chris Thompson & M.E. band gjør også knalltøffe eventer med de 5-6 største hits etter avtale.
Chris Thompson & M.E. band er også en del av vårt Classic Rock-konsept som kan formes etter avtale. Her medvirker også andre aktører som Katrina & the Waves og Cutting Crew.